LLADRO PLEASE COME HOME #6502 DOGS WINDOW Retail$1295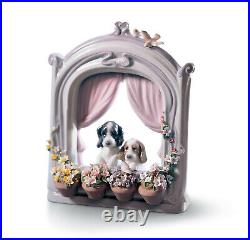 PLEASE COME HOME DOGS FIGURINE. Figurine of two little porcelain dogs looking out of a window with four pots full of flowers and vines. The window provides the frame for a world of eternal spring, sweetness and joy in which two puppies await us, eager to play. A glossy porcelain piece, decorated in pastel colors, ideal as a gift, collectible or decoration. Dimensions: 8.268" H x 7.087" W x 4.331 L. Lladro's Please Come Home is Mint In ORIGINAL LLADRO BOX.
ON SALE FOR BARGAIN PRICE!