Dasia Lladro 14 Dog Spaniel Puppy Rare Vintage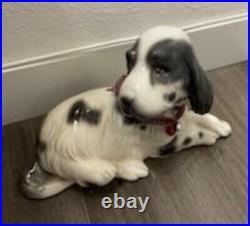 This is a rare Daisa, Spaniel Puppy Dog. Daisa is the parent company for Lladro. This dog is larger than the usual smaller Lladro pieces, this dog measures 14 inches from tip of the front paw to the tail. Height is 9 1/2 inches tall.
Glazed Porcelain, made in Spain. Part of a large Lladro collection of my friend that had one of the largest Lladro collections and was featured in the lladro magazine in the 1990s.